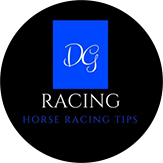 Pros
Profitable
In-Depth Explanations
Achievable Prices
Honest
Simple Staking Plan
Price Reduced Because Of Performance
Cons
Profit Less Than Previous Years
Confusing Results Table
Tips Sent Early
Manual Resubscribing
Small Long-Term Discount
Disappointing Post-Trial Performance
Who Are They?
Website: https://www.dgtipsracing.com/
DG Racing is a service run by a very pleasant young man called David Griffiths. Having grown up around horse racing in Cheshire, what he doesn't know about horse racing isn't worth knowing. He specialises in flat racing and began his tipster service as DG Tips through Tipsters Empire in June 2015. Since then, he has started his own independent service called DG Racing in February of 2018.
What Do They Claim?
"Dave's results speak for themselves and are unrivaled in the industry. His commitment and consistency are coupled with an incredible talent for race analysis." – dgtipsracing.com
Claimed Stats
June 2015-April 2021: +1,105.4 points profit
Average: +16.02 points per month
53/69 (76.8%) profitable months
The Trial
David sends his tips via email in the morning – usually between 8-9AM. The odds are always honest and attainable, and he only quotes the prices if it's available in at least three different bookmakers. The tips are reassuringly supplemented with detailed explanations so you can understand the reasoning behind each tip – there's no guesswork here.
Starting in January, the first week was a bit of a non-event. But the second…my word! 6 winners from 10 tips including Raz De Maree at 16/1! This guy is clearly no amateur! David quickly racked up 20 points and he wouldn't stop there. A quiet week followed before another flurry of 5 winners from 9 bets! The month then plateaued until the end, but finished a notable 34 points to the good. I was impressed.
February started the same. More and more winners landed and the profit continued to grow. Then midway through the month came a shock. Dave was to leave Tipsters Empire and start his own company. Good for him I thought. Maybe not for the punters, but he deserved to be successful. However, this meant there was to be a week of no tips.
Unfortunately, that was as good as it got. The start was very impressive, sure, but the following months would underwhelm. If January to Mid-Feb was an Aston Martin, then mid-Feb to June would be a Ford. Efficient, reliable, but nothing to write home about. In the 4 months from March to June David averaged around 5.4 points per month. Okay, but with the monthly fee to consider its not great.
Having said that, the trial overall was successful. David may argue that it wasn't him at his best and I might agree with that. Historically, his betting results have been much better than recently, although these seem to be on a worrying downward trend. But it was still good. Not amazing, not bad, but good.
—————————————–April 2021 UPDATE—————————————–
DG Tips has been underperforming for some time now. 2019 and 2020 were very disappointing years and not worth paying for. 2021 has started with similar form and David really needs to turn it around quickly for his service to be respected again.
Achieved Stats
| | |
| --- | --- |
| Duration: | 6 Months |
| Points Profit: | +68.9 points |
| Standardised Profit: | +68.9 points |
| ROI: | +9.8% |
| Subscription Price: | £10 p/m |
want free tips?
Join our free newsletter to receive betting tips from VIP tipsters.